12 Takipçi | 44 Takip
Kategorilerim
Diğer İçeriklerim (282)
Tüm içeriklerim
Takipçilerim (12)
PERU'DA HAYVANLARIN DOGAL YAŞAMI
World Wildlife Wednesday; Naturally Peru
One of our favorite things when traveling the world is experiencing the wildlife of the countries that we visit. There are some incredible places to view wildlife in their natural habitat and in sanctuaries.  Unfortunately it is becoming more and more difficult to see wildlife in the actual wild, but there are some great places that have set up protected reserves for animals to live fee from the encroachment of urban development in their natural habitat.
This is the first of our Wildlife Wednesday series featuring some of our best experiences seeing wildlife in our travels.
When we visited Peru, I really had my heart set on Isla Ballestas. I had read that it was a smaller version of the Galapagos. Some people even call it the Poor Man's Galapagos. I have always wanted to visit the Galapagos Islands but for now, Isla Ballestas was the closest I was going to get.
Located 3 hours south of Lima, you can make a home base in Pisco and catch a boat from Paracas.  You are not allowed to land on the islands so as not to disrupt the wildlife, however, our boat got a little too close to the marine life for my liking. And I felt terrible about the exhaust fumes that the birds and sealions have to endure everyday. I am sure that as time goes on though, Eco-friendly tours will take hold as more people complain. Also, I kept telling myself that this is an amazing conservation area of more than 700,000 acres.  At least they are not in aquariums performing for audiences at Sea World.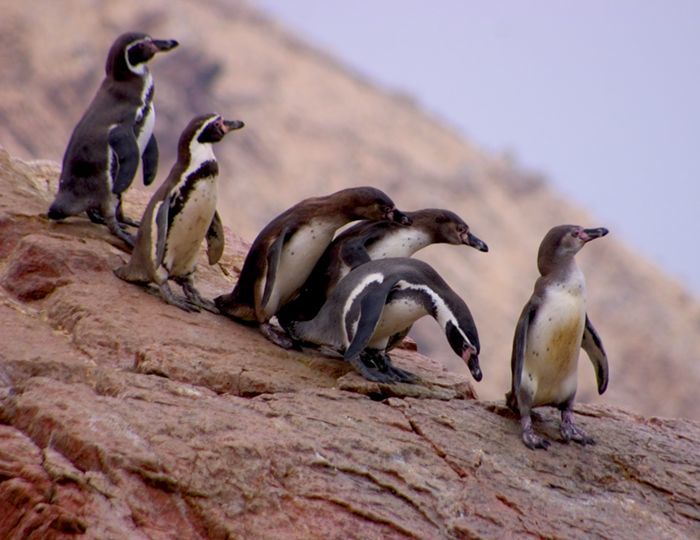 It was my first time seeing penguins in the wild and I was extremely excited to see the cute little guys waddling along the rocks.
Hundreds of Sea Lions were the star attraction.  They were just the cutest things I had ever seen.  They slept on the rocks, played in the water and splashed around on the shore.
We cannot forget the Peruvian Booby. This group of Islands has thousands of them flying around. The amount of birds everywhere was really overwhelming. Boobies, pelicans, cormorants and condors. We definitely got our birdwatching lesson for the day. It was incredible how they followed the boats out to sea. To get a better feel for what we saw, check a clip from our Peru Video taken of Isla Ballestas.
Enroute you are treated to a view of the Candelabra. This was another treat since we didn't have time to visit the Nazca Lines.  Nobody knows why this 130 meter high figure is etched into the side of a giant sand hill.  Nor do they know how old it really is. All I can say is how can an etching last for hundreds of years on a sandy sea shore of without eroding away. Yet another mystery in this thing called life.